Type or Paste Your Text here
Twitter Fonts will Appear here
Twitter Fonts Generator
People become famous overnight because of just one tweet. This is the power of Twitter a microblogging social media platform. What if you become able to change the typical Twitter font into some fancy and stylish fonts for twitter to attract your readers? Try this.
Twitter is largely used by celebrities, politicians, and famous brands to connect with their fans and customers. It is indeed the right place to build an audience and to share your product or your life story with your followers.
By using this amazing Twitter text, letter, and font generating tool can help you maximize your engagement with your audience in different ways.
Whether you want to share your political views, or you want to express your thoughts twitter is there for social media personalities and businesses for a very long time. Nowadays even people look for news updates on Twitter. It is fast and the news can be authenticated by the responsible person.
If you are a regular user of Twitter you might have noticed that some of the tweets look different from all others because of their text style like bold, italic, small, or large or with some fancy symbols. How is that possible?
Facebook Fonts: Click here for Facebook Post Fonts
How does it work?
It is possible because some people know the secret of Unicode. There are a huge number of symbols and letters in the Unicode that can turn any text into some awesome font style. We have gathered these symbols and characters to develop different "pseudo alphabets" which look like normal alphabets.
However, it is not possible for everyone to remember and use these Unicode as there are 100k plus Unicode and a normal keyboard has very limited characters so you cannot utilize all these Unicode with your keyboard.
To utilize the power of Unicode for tiny and small Twitter post font there was a need to create a font generator. This font generator uses a wide variety of symbols and characters to represent the alphabets but in actual they are not semantically alphabetical. These are a combination of Unicode that regenerates fonts for Twitter.
So, there is no trick or sorcery behind the aesthetic font tweets. This is just a simple Twitter font generator and yes you are at the right place.
The cute fonts for twitter that are created with the font generator are cool and eye-catching. These fonts attract the attention of the readers and it also helps you to gain more likes and followers on your account.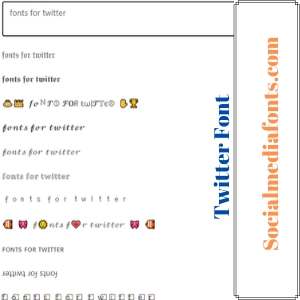 How to use Fonts for Twitter
The Twitter font can create a unique and attractive presence on Twitter, and it can be the best way to showcase yourself as different from others.
If you want to convert the normal text into some cool text you can use our Twitter bio text generator and it is very simple to use. You just need to type or paste your text into the input box and fancy converted fonts will appear under that box.
You can also generate more fonts by clicking the load more button, it will generate more fancy and aesthetic fonts for you.
Copy and Paste twitter font generator
The whole process can be summarized into these three simple steps.
Type or paste your text in the input box
Font generator will convert it into fancy and stylish text
Copy and paste the text into your tweets.
There are more than 30 fonts that are generated in the first instance and you can click on the load more button at the end of the list to generate more fonts.
Difference between Fonts and Unicode
The best thing about the font generator is that the text generated from it can be utilized not only on Twitter but also on other social media platforms. The combination of Unicode symbols and characters makes it unique and different from other font generators.
Some of the other social media platforms do not support some fonts generated by this fun font generator for Twitter. But this Twitter font changer is compatible with Twitter. Another amazing part is that many Unicode resembles Latin or normal alphabets. So, it becomes easy to generate pseudo alphabets.
As we earlier said that we are using Unicode for building the alphabet that can be used on Twitter. But if you want to use other online fonts like comic sans, it will not appear as it is.
Tumblr Fonts: Click Here for tumblr Fonts
The generated font from this font changer can be used on any platform as long as they support Unicode. The reason is simple. When you use the Twitter text generator and copy the text you are not actually copying the font. They are symbols and characters that collectively look like a font.
These different fancy and cool fonts not only help you improve your presence on the social media platform but also make your profile unique from other profiles. You can also use this generator for Twitter name fonts and bio fonts.
Compatibility
It is still possible that some of the aesthetic twitter fonts will not appear as it is in your tweet of the message. It is because your device does not support that symbol or character. You can change the device to use a font if you like it.
If you use emojis in your tweets then it is better to use this font generator because you can express your thoughts and add a unique touch to the message that you are intended to convey to your readers.
Who can use it?
If you an entrepreneur, social media personality, politician, or businessman, you can use these fonts to create your signature style in your tweets. Your cool and stylish tweets will become your identity on Twitter or any other social media platform. This will enhance your fame and reach as well.
This tool is designed for Twitter, but it can be used on other social media platforms. Along with colorful tweets, you can also write colorful posts on Facebook and cool Instagram bio.
It is one tool for all and all the social media users can take benefit of this Twitter font generator. It is easy and fun to use and you can choose your favorite font from a large list of different fancy fonts.