Type or Paste Your Text here
Instagram Fonts will Appear here
Tumblr Fonts Generator
Tumblr became famous among micro bloggers in a very short time. It is one of the most popular and interesting social media networks, with a limited number of Tumblr fonts options.
Bloggers use this network for creating amazing and interactive short blogs. Not only you can write your thoughts in the form of a microblog, but you can also connect with other bloggers by following their blogs. For making your blog more attractive for your users you can use this Tumblr font generator. Try it now!
Why Tumblr is a more attractive social media platform as compared to other networks like Facebook and Instagram. It is because Tumblr provides more customization options for your blog and profile and you can showcase your content with a different feel by using Tumblr quotes and other similar short content.
Tumblr fonts generator is amazing in a way that it can provide unlimited font generation options that can be used on Tumblr. Whether you want to add cool text fonts or some stylish and fancy text fonts, or anything in between them, the fonts generator gives you some aesthetic fonts option that you can easily copy and paste wherever you want.
There is no need to download or install any software for the generation of cute tumblr symbols. Just copy and paste will simply work for you.
All the uni-codes and symbols do not work on Tumblr. So, it is a time-consuming task to sort out what will work and what will not. The Tumblr font generator will take care of this tricky part and you will get a long list of auto-generated aesthetic fonts. Most of them will work for you.
How does this tool work?
It is very simple and easy, open the Tumblr fonts generator page in your browser. You will see an input field where you can type the text you want in a fancy style or paste the text in the text box. A list of aesthetic, cool, and fancy-looking fonts will appear beneath the text you entered.
We kept in mind the functionality and usage of Tumblr while creating this font changer, so you can easily use Tumblr Fonts generator for fancy-looking cool letters and text that can be used not only Tumblr but other social media networks if they support the Unicode.
In Simple steps
Type or paste the text in the font generator
The fancy text will appear under it
Just copy your favorite style
Paste the text in your blog of profile
Enjoy.
How Unicode works?
You must be thinking of How Tumblr Fonts Generator by Social Media Fonts is unique from all other font generators. The uniqueness of this generator is that it uses Unicode symbols and letters to generate different characters.
Another characteristic of this awesome font generator is that it generates the font styles that are most of the time compatible with Tumblr.
Most of the fonts generator of social media fonts is designed in a way that the generated fonts are compatible with their respective social platforms.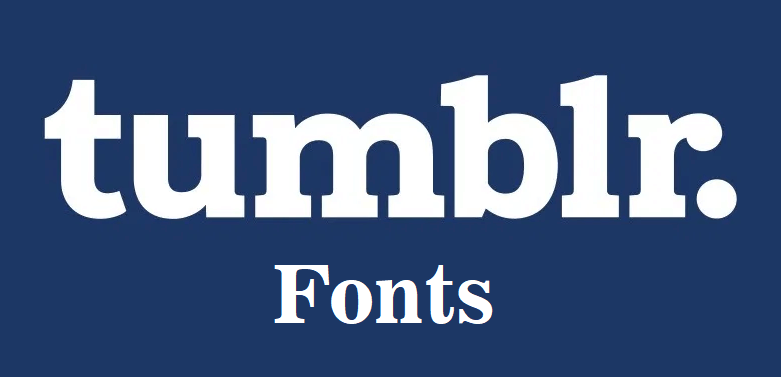 It is also coincident that a lot of Unicode symbols look like the English alphabet or some Latin alphabet. So, it becomes easier to use these Unicode's to create some awesome pseudo alphabets.
Most of the time when you see some stylish and fancy fonts on the internet and try to use them in your blog or to create the post by copying them, the fonts appear to be corrupted. It is because the characters of the source are not separated, and it appears just like a set of graphics.
However, this font generator is compatible with Tumblr because we have used the separate characters and Unicode symbols so that our users can easily and successfully copy and paste the nice aesthetic fonts from our site.
The fonts generated with the help of Tumblr fonts generator make your blog and posts aesthetically awesome. They give your blog a unique style and fancy touch so that it looks different from all other blogs in your niche. If you are from Germany and looking for a Tumblr schrift generator, this is exactly what you are looking for.
It is also possible that some fonts will not appear as it is in your Tumblr blog and posts. The reason behind this can be the incompatibility of your device or the support for these fonts is not present in your devices.
Twitter Font: Click Here for Fancy Tweet Font
If you are using the generic fonts and style of Tumblr, the look of your blog will not be personalized. However, the stylish and fancy aesthetic symbols can give another feel to your blog. After typing your text in the input box, you will see a list of fancy fonts, but these are not all.
Click the load more button at the end of the list and more styles will load under it. Keep loading more fonts until you get the best and your favorite font style from the generator. You can also get tumblr tiny text here.
After selecting your favorite style just copy and paste it in the Tumblr blog or anywhere else on other social media platforms like Instagram, Facebook, Twitter, etc.
How do you get different fonts on Tumblr?
Tumblr gives you an option to use different fonts in your blog post and your profile. Still, there is a limit. You can get unlimited different fonts on Tumblr by visiting socialmediafonts.com. Just copy and paste required.
Tumblr Font generator users
As we have seen that this amazing tool can turn your blog and your whole profile into a fancy and creative world by making it eye-catching with aesthetic fonts.
If you are an active member of different social media platforms. It is important for you to showcase your personality, so you must use the Tumblr Fonts generator. It will not only make your Tumblr profile beautiful but also play an important role in engaging your visitors.
With a personalized touch, you will be able to give your visitors a unique look. Your visitors will be able to remember your blog as it will give them a unique memory.
Just use these fancy, aesthetic, and stylish text and symbols this tool will surely help you to gain more followers on different social platforms.