Type or Paste Your Text here
Tiny Small Fonts will Appear here
Small and Tiny Text generator
Text generators are handy tools in our day-to-day life. They help us to save time and to make our life easier. Tiny Text Generator is one such tool that generates small text within seconds. If you are looking for a tool that will help you generate content for your blog or website, this is the best tool for you.
Our tiny text gen is a free tool that will create a super tiny text based on the input you give it. A small text generator is a great way to get unique text for your article marketing and any other purpose.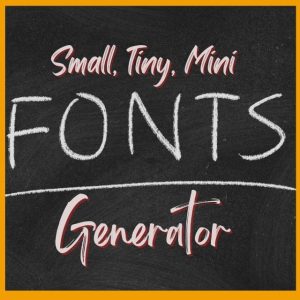 This is a novel tool that can be used for creating small text with tiny messages. This is an exciting tool, and it is surely going to enhance your overall experience. With the help of this tool, there is no requirement for you to look for other online text generators. You can easily create super small text with the use of this powerful software.
The timy text generator is a wonder of technology available to us. We have access to many tools that can help us make content more exciting and engaging. Tiny text generator is one such tool that is available to us. This blog post will look at this technology and help you understand how it works.
People also look for this generator with some amazing terms like "uhhh small text" and "can I get uhhh text" or "uwu font"
Where can The Tiny Letters Generator be used?
A small letters generator online allows you to create tiny mini text. This is a great way to make small, attractive letters quickly and easily. Because of the popularity of social media, tiny texts' effectiveness has increased significantly.
The majority of people who use social media platforms use simple fonts. You can be more memorable than your colleagues and friends by creating something original and catchy. If you're a webmaster and want to do something unique from your competitors, a smaller text might be the best option.
A small font is also vital in creating a beautiful website template as it is a stylish font. Sites with dull fonts often challenging to find the right traffic and fail to impress visitors. You can make this change by using a simple text generator to generate captivating text for your website.
How does it work? Unicode system for this Small Text Generator
This text is created using three Unicode alphabetic systems. These are not the most formal systems, and symbols might appear strange or missing in these three systems. This does not mean that the text cannot be posted to social media networks. Even the most bizarre letters can catch someone's eye.
The very first letter of the alphabet is made up of small letters. It is one of the most complete Unicode alphabets.
Superscript symbols are used widely in phonetics and mathematics. Unicode developed text letters to represent these symbols. It is important to note that both the letter "q" and "i" don't have an official superscript letter. This font is the smallest. It's time for you to diversify your Instagram and Facebook posts using tiny text.
The subscript alphabet is represented by the 3rd alphabet. Unfortunately, this alphabet is the least complete of all three. Some letters can't be replaced. However, I believe that the two alphabets will soon be complete with all of the small letters.
The only letter which is slightly weird is the "f" character. Which gets converted into "ғ." There is not a superscript letter for "q" and "i," so approximate replacements had to be used.
The complete alphabets for each of these three mini-text Unicode sets are below:
ᴀʙᴄᴅᴇғɢʜɪᴊᴋʟᴍɴᴏᴘǫʀsᴛᴜᴠᴡxʏᴢ
ᵃᵇᶜᵈᵉᶠᵍʰᶦʲᵏˡᵐⁿᵒᵖᑫʳˢᵗᵘᵛʷˣʸᶻ
ₐbcdₑfgₕᵢⱼₖₗₘₙₒₚqᵣₛₜᵤᵥwₓyz
Tiny Font Generator Copy & Paste
People look for a hassle-free system that can give instant results without putting much effort. To meet this need, I developed this small, tiny, mini text generator that also uses superscript, subscript, and small capital fonts. It is amazingly easy to use in just a few steps.
Open the site and use the input box to enter your text. It will give you small letters of what you have typed. Copy the style you want and paste it anywhere.
What can Tiny Text Generator do for you?
It provides a modern solution for your modern problem of having unique, fancy, and stylish text for your social media profiles and website content. Quickly and easily free of cost. It is the best converter to instantly convert your text into small and tiny text.
Tiny Text For Reddit, Facebook, Instagram & Twitter
As I said earlier, you can use this generator on different social media platforms. Why do you need this generator for these sites? They have limited formatting options, and you don't have much choice but to make your post attractive with colorful fonts. When you want to write in the tiny cursive text on Reddit, Facebook, or Instagram, you will have to come to this website and type your text here to get your desired font.
How to use it?
I explained it earlier. Very easy to use. There are two boxed, one for the input of the text and the second for the results. Put whatever you want to convert into mini-text in the first box. In the 2nd box, you will get the result instantaneously.
How to type tiny text and letters?
This site socialmediafonts.com provide you with a tiny text generator. Just type your text, and you will get tiny letters as a result.
What is a Tiny/Small Text?
It is an extremely small size of text that can be generated from socialmediafont.com
How do I make small text letters?
It's easy. Visit the tiny text generator page on socialmediafonts.com and make your desired small letter text.
What is a tiny text called?
It is also called the mini text or small text. It is composed of some Unicode characters combined to make this size of the text. This text can be used anywhere on the internet.
How do I get small words on my keyboard?
You can get small words on your keyboard by using the superscript and subscript features of different software like MS Word. Another best way to do this is by using an online font generator. I have developed one of the best online small text generators.
What is the smallest text?
I talk about the smallest text; it is "6pt" on different word processing software.
How do you make words small?
One way is to reduce the text's size in word processing software, but this small size text cannot be used outside of this software. For making tiny caps text on social media sites like Facebook, Reddit, Instagram, Discord, and Twitter, you must use the online tiny fonts generator.
How do you type a subscript?
I can use Word processing software in the best and easy way by using a tiny font generator from socialmediafonts.com.
Is superscript a font style?
It is not a font style nor a font face. This Unicode symbol or character is present slightly up from the regular text line. Its size is also shorter than the usual text size.