Type or Paste Your Text here
Stylish Fonts will Appear here
Stylish Fonts Generator
Social media platforms or any other website that allows you to enter text or chat with others represent your personality. If you want to look stylish online use stylish fonts. Try this stylish font generator.
We are living in a world where most of us are now connected with hundreds of people all around the world through social media platforms. Your Facebook profile, your Instagram bio, your tweets, and your Tumblr blog represent your personality.
If you are good at converting your thoughts into the text then the next step is representing that text according to your personality. A cool funky tweet or blog post with simple plain text cannot attract a potential reader. Unless you make the presentation cool and funky.
Click Here for Instagram Fonts.
Now the problem is that most of the social media platform gives no or little formatting options for your text. So, if you are looking for a way to present your text in colorful and stylish fonts, you are in the right place.
How Stylish fonts Work?
As I earlier said, the formatting option provided by different social media networks is limited so you must be thinking of how these stylish fonts work on these platforms.
Let me explain to you in easy words.
These fonts are not the actual fonts. These are simple characters and symbols which are combined with some JavaScript coding to make pseudo alphabets. It is called Unicode and you will be amazed to know that there are over 100,000 Unicode. Not all Unicode is supported by the normal keyboard.
To use them you need a stylish fonts generator, and this is the best fonts generator.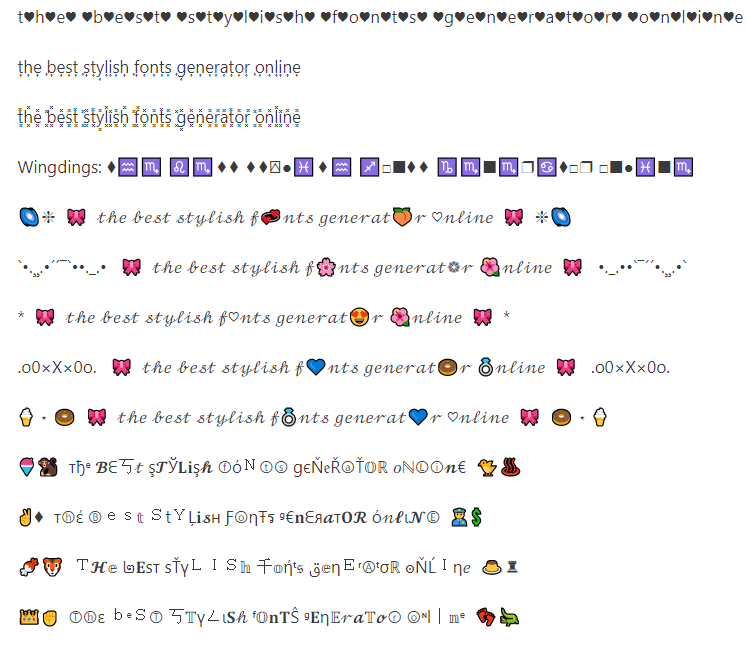 How to Use a stylish text generator?
This stylish text generator is very easy to use. There is no need for installation or processing. You can simply stylish text copy and paste by typing your desired text into the text convertor. Instantly you will get a comprehensive list of cool and stylish fonts online. The load more button at the bottom of the list will generate more fonts for you.
Just follow these three simple steps.
Paste your already written text or type it in the input text field.
Select your favorite stylish font from the generated list.
Copy the stylish text and paste it wherever you want.
Impress your readers and visitors with the personalized presentation of your text.
Where to use stylish fonts?
You can use these stylish fonts anywhere you want. Unicode is supported by almost all word processing software so if you want to use it in your offline documents it is very easy.
In your normal text, you can use stylish fonts to add more importance to a sentence or paragraph. Not only it will take additional attention from the reader, but it will also make your text different and valuable at the same time.
These decorative text generators can also help you in adding stylish text in different software like MS Word and Adobe Photoshop.
The best part is that you don't need to download and install the fonts in any of your software simple copy and paste stylish fonts will work.
Not only that, but you can also use the stylish text generator to generate text for web designing. It will add a unique style to your web designing project, and you can make it your signature touch for different projects.
For online platforms, whether it is a social media network like Facebook, Instagram, Twitter or it is a business community like LinkedIn you just need to copy and paste stylish fonts in the relevant text area.
You will instantly feel a positive response from your followers and visitors because according to some studies stylish fonts help to increase your followers and it also increases the retention time of a visitor on your profile.
Compatibility Problems
Sometimes, when you will copy the stylish text and paste it in other documents or online text areas, you will see a block or question mark instead of that symbol. It does not mean that there is something wrong with the generator.
The reason behind this problem is the compatibility of the software and online platform. As I said above, there are more than 100,000 symbols and characters. Sometimes the keyboard or the social media platforms does not support some characters and symbols.
You can also visit the Fancy Fonts Page for more cool fonts.
The compatibility issue varies device by device, but it is happy news for you people that most of the platforms support most of the Unicode.
Conclusion
The stylish text generator online is fun to use, and you will have to put minimum effort to deliver this fun experience to your end reader in a time-efficient manner.
This amazing text generator provides different font styles like cursive text, old English letters, double-struck text, flipped text, and kawaii letters, etc. So, you don't need to use any other ancient text generator as you get all your desired fonts in one place.
Frequently Asked Questions
How to write my name in stylish fonts?
It is very simple. Go to socialmediafonts.com click on stylish fonts. Write your name in the input text field. Copy your favorite style name and paste it anywhere.
How to use stylish fonts app?
Stylish font app is just a copy and paste text generator. You just need to copy and paste your text. Go to socialmediafonts.com and use stylish fonts by pasting your text.
How to write the Facebook name in stylish fonts?
Facebook provides limited formatting options. You can use any stylish font generator to convert your simple name into the stylish text. Socialmediafonts.com is providing free fancy-style text generators.
How to use stylish fonts in WhatsApp?
Copy your favorite style of the font from the list after pasting or typing the normal text in the input field. The stylish text font generator is a free tool present on socialmediafonts.com