Type or Paste Your Text here
Fancy Fonts will Appear here
Fancy Text Generator
If you are the kind of person who wants to look unique and different on different social media platforms then you should use fancy fonts in your writing. Try Our fancy font generator.
Most of the social media platforms like Facebook, Twitter, Instagram, and TikTok offer limited fonts and text formatting options to their users. There are multiple reasons behind this problem, but now it is easy for you to decorate your Instagram bio or your Facebook post with some stylish and fancy fonts.
This fancy font generator can turn the normal text into cool-looking stylish and colorful text that can be used almost everywhere on the internet.
With this font generator, you can make your internet presence more colorful and stylish and many resources suggest that it is one of the most successful ways to gain more followers on your profiles.
Click here for our Instagram Fonts Generator
How to Use
The text changer is very easy to use, and you can easily generate hundreds of cool and fancy fonts in no time. These three simple steps will help you in turning your normal text into fancy aesthetic fonts.
Type or paste the text in the input text area
Select your favorite fancy font style from the list beneath the normal text
Copy and paste the cool fancy fonts anywhere you want.
Hurrah!
You have successfully turned the normal-looking profile into a unique colorful profile.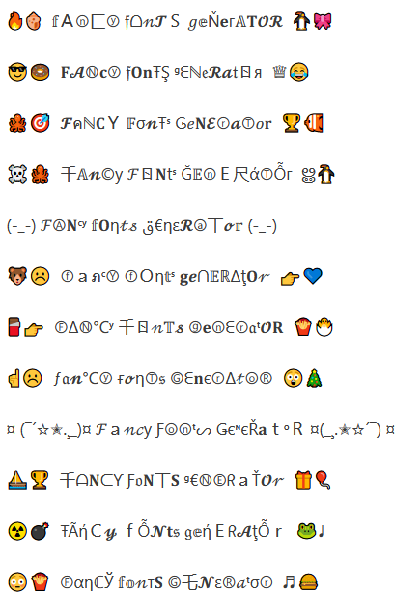 Where to Use Fancy Fonts
Many of you will be thinking about where you can use these trendy and fancy text generators in 2022. There is a long list of different platforms where you can easily use this copy and paste fancy font. Let's have a look.
Instagram Bio: To gain more followers you must attract more visitors. To attract visitors, you must make your bio unique and eye-catchy. You can copy the fancy fonts from the font generator and paste them into your Instagram bio easily.
Facebook: It is indeed one of the largest social media platforms. Your friends and followers see your posts in their news feeds. You can use this text font generator to better present your thoughts along with characters and symbols.
Here is the link for our Facebook Fonts Generator.
Twitter: This microblogging platform has become the most engaging platform especially if you are a business or in politics. By using fancy fonts, you can create your unique identity on this platform.
Try this Twitter Font generator for cool tweets.
Compatibility with Devices
The alphabets that are generated with the font generator are not fancy fonts. They are characters and symbols of Unicode that make pseudo alphabets by combining the special characters and symbols.
You just need to copy and paste the generated fancy text wherever you want. Most of the offline and online word processing software and official and social media platforms are fully compatible with Unicode. So, it will be a hassle-free task for you to use these fonts.
However, if you are still using any old version of the browser you will not be able to see some of the characters and symbols.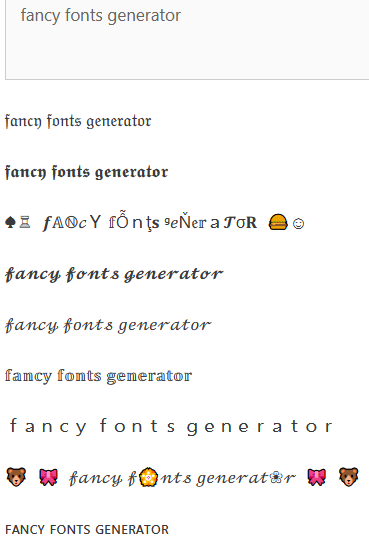 Stylish and Fancy fonts
There are a lot more options present in this fancy font generator than you think. There is a "Load More" button present at the end of the stylish fonts list. This button enables you to generate an unlimited number of different combinations of characters and symbols. Here are some of the cool-looking fonts that you will be generating through this font generator.
One more thing, if you want stylish and cool symbols for a specific social media platform visit our home page. You will be able to get a whole lot of options for your favorite social media platform. 🆆🅰🅽🆃 🆃🅷🅸🆂 🅲🅾🅾🅻 🅵🅾🅽🆃?
These are the alphabet for the cursive Font letters: 𝒶𝒷𝒸𝒹𝑒𝒻𝑔𝒽𝒾𝒿𝓀𝓁𝓂𝓃𝑜𝓅𝓆𝓇𝓈𝓉𝓊𝓋𝓌𝓍𝓎𝓏 𝒜𝐵𝒞𝒟𝐸𝐹𝒢𝐻𝐼𝒥𝒦𝐿𝑀𝒩𝒪𝒫𝒬𝑅𝒮𝒯𝒰𝒱𝒲𝒳𝒴𝒵 𝟢𝟣𝟤𝟥𝟦𝟧𝟨𝟩𝟪𝟫
These are the alphabet for the double-struck Font letters: 𝕒𝕓𝕔𝕕𝕖𝕗𝕘𝕙𝕚𝕛𝕜𝕝𝕞𝕟𝕠𝕡𝕢𝕣𝕤𝕥𝕦𝕧𝕨𝕩𝕪𝕫𝔸𝔹 ℂ𝔻𝔼𝔽𝔾ℍ𝕀𝕁𝕂𝕃𝕄ℕ𝕆ℙℚℝ𝕊𝕋𝕌𝕍𝕎𝕏𝕐ℤ 𝟘𝟙𝟚𝟛𝟜𝟝𝟞𝟟𝟠𝟡𝟘
These are the alphabet for "old English" Font letters: 𝖆𝖇𝖈𝖉𝖊𝖋𝖌𝖍𝖎𝖏𝖐𝖑𝖒𝖓𝖔𝖕𝖖𝖗𝖘𝖙𝖚𝖛𝖜𝖝𝖞𝖟 𝕬𝕭𝕮𝕯𝕰𝕱𝕲𝕳𝕴𝕵𝕶𝕷𝕸𝕹𝕺𝕻𝕼𝕽𝕾𝕿𝖀𝖁𝖂𝖃𝖄𝖅
This is also a stylish colorful font generator. You can also get the 🅰 font or 🅾 font which is also a form of 🅵🅰🅽🅲🆈 🆃🅴🆇🆃. These are the block letter Font alphabet: 🅰🅱🅲🅳🅴🅵🅶🅷🅸🅹🅺🅻🅼🅽🅾🅿🆀🆁🆂🆃🆄🆅🆆🆇🆈🆉
If you are really looking for fancy number writing online then this is the tool that will satisfy your whole font generation need. You can find all fancy I, fancy m, fancy t, fancy r, fancy w, fancy q, fancy h, fancy g b s e and fancy letter r and and c for all your use.
Frequently Asked Questions
What is fancy writing called?
Writing the alphabet in different fancy fonts is called "Calligraphy".  Calligraphy is mostly used in documents like wedding cards, birth certificates, religious documents, and educational degrees, etc. This is the best place for fancy writing copy and paste.
How do you get fancy fonts?
If you want to use fancy fonts on any social media network or for offline work you can use the fancy writing generator of socialmediafonts.com. Visit the site and click on the fancy font icon for hundreds of fancy fonts.