Type or Paste Your Text here
Discord Fonts will Appear here
Discord Fonts Generator
The Discord fonts generator is an amazing tool to generate fancy and stylish text which is easy to use in Discord Chats. Try It here.
Discord is one of the best social media platforms for the gaming community. This platform allows gamers to interact with each other, chit chat with their fellow gamers about their gaming experience.
It is the best social media platform that is providing a place for people with a common interest. The best part is that it is not age-specific. Whether you are a newbie or an experienced player, young or old, you can join the platform.
This platform allows you to communicate with each other via voice and text. Discord app is also available on the play store which is an easy way to communicate. You can also download it from the official website of discord and you can use it both on your desktop and mobile.
Instagram Fonts: Click here for Fancy IG Fonts
However, if you want to use different Discord fonts in your chat you will get limited options. The only option you get for text formatting is bold and underline. For more you will need discord text formatting generator.
Discord and Fonts Options
As there are almost no formatting options available in discord. The lack of this feature makes the whole experience monotonous and it becomes boring for people to chat without using fancy and cool fonts and symbols. It can also take the user to other social networks like Facebook, where interest-based groups are already serving the users.
However, the reason for the popularity of Discord is that it is a great place for gamers. This platform not only unites the gamers in one place but also gives them a sense of community of their own without any discrimination.
The feature of adding different fonts and text styles can be an added advantage for this app. The users will also enjoy their chat by using cool and fancy fonts along with emojis. Here comes the need for a tool like Discord playing fonts generator which can help you to add cool and stylish fonts and styles in your chats.
How to use discord fonts?
As we know that the discord app does not cater to the need for text formatting, so you can use the special discord fonts generator which is an excellent tool for discord users. It is easy to use the tool and if you want to impress your fellow gamers with fancy texts go for it.
Tumblr Fonts: Click Here for Cool Tumblr Fonts
It is as simple as discord copy and pastes, you just need to type or paste the text in the tool input box and the result will instantly appear under it as fancy discord message generator. You will have a lot of different fancy fonts options.
We can summarize the whole process in three simple steps.
Type or paste your text
Select the font you like
Copy and paste it into the Discord Chat Box.
Unicode and Compatibility
Here comes a question about the compatibility of these fonts with the Discord App. What you see after adding the text in the input box of the font generator is not actually a font. It is a collection of Unicode characters and symbols that turns into pseudo alphabets when arranged uniquely.
Discord does not offer a variety of different fonts but it is totally compatible with Unicode so you can easily use any cool and unique font generated with this tool.
You can impress your fellows by using these unique and colorful fonts and symbols. Some of the fonts you can choose from are medieval, cursive, gothic, old English, and many others.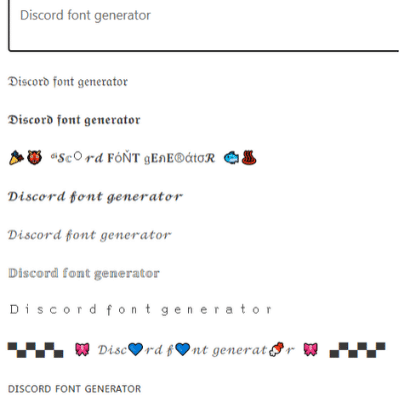 The large variety of fonts style helps you choose a font style according to your personality and likeness. You can consistently use a single font style to make it your signature style. You can also use different font styles every day to look fancier and more colorful in your community.
Another advantage of using discard fonts generator is that you can write in small text fonts i.e. subscript and superscript. This formatting option is not present in Discord so you can use the tool to add small text in your chat.
This discord text formatting generator not only allows you to change the font style in the chatbox, but you can also use the font generator to change the text style in your username. A fancy and colorful username not only makes your profile unique but will also give a personal touch to your whole profile. You can also add gothic in discord by using this tool.
This tool is good for the people who use the discord app extensively for interaction with other gamers and the gaming community.
Frequently asked questions
How to change Discord font?
Discord offers a limited text formatting option. If you want to use fancy text fonts in the discord app you can visit the https://socialmediafonts.com/discord-fonts and get 100+ stylish and cool fonts for discord.
Can you change the font in discord?
Yes, you can change the font in discord chat as well as the nickname by using the online discord fonts generator tool on https://socialmediafonts.com/discord-fonts.
How do you type in different fonts on discord?
There is a limited fonts option in discord. For typing different cool and aesthetic fonts in discord just visit  https://socialmediafonts.com/ and get 100+ fancy and stylish fonts for discord.