Type or Paste Your Text here
Aesthetic Fonts will Appear here
Aesthetic Fonts and Text Generator
This is one of the best and most useful text creators. You can use it to convert any text into Aesthetic fonts. Above all, I made it extremely easy to use. You don't need any programming knowledge or software skill to get all these beautiful, stylish, and aesthetic fonts on your social media profiles. By typing your text, you will instantly get a list of Aesthetic fonts.
Aesthetics is one of the most crucial parts of any creative calligraphy and artwork. Especially in the online world where everyone has access to your profiles and bios on different social sites. If you are an influencer or content creator, you have to attract more audiences to your online presence.
I have added some of the widely used aesthetic fonts in the text generator like Japanese style text, vaporwave text, and superscript and subscript fonts that are also called small text. The text style you select totally depends on how and where you want to use it. I have included as many varieties of different font styles as possible.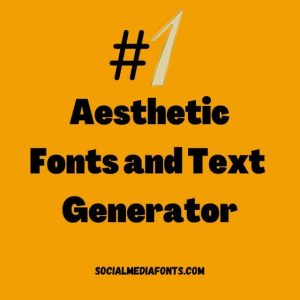 Comparing Aesthetics Font to Vaporware
I always add a "Load more fonts" button at the end of the output text. By clicking it, you will get more fonts. These are more stylish and fancier as compared to the aesthetic ones because you will see I have also added different emojis to them.
You can choose from more soft aesthetic style text to vaporwave text and anything in-between, as these are the two ends of the whole spectrum.
Uses of Aesthetic Font Generator
I have developed this fantastic font generator in such a way that anyone can use it anywhere. Yes, you read it right. Normal fonts have certain limitations that you cannot use on some platforms. Sometimes, copyright issues arise if you are using a font for commercial purposes.
I developed it with the help of Unicode. If you are wondering what this is? Here is the answer. There are hundreds or thousands of Unicode characters or symbols. This set of symbols is not like the normal fonts present on your keyboard.
As I said earlier, this is not just a font. These are combinations of characters that make so many different styles of fonts like the aesthetic meme generator does for you. You can easily copy and paste aesthetic fonts on your social media bio and profiles.
How and where to use an aesthetic text generator?
This is an interesting question, and the interesting answer of that you can use it anywhere you want. I use these fonts for my Instagram bio, Facebook comments, and Twitter to make my tweet more engaging. My friends use it on Discord, Tumblr, and Reddit to make their content pleasing to the eyes and more readable.
Aesthetic fonts Copy and Paste
There are three simple, easy steps that are applicable to every generator present on sicialmediafonts.com.
The first step: The first step is to enter or type the text you want to convert into fancy aesthetic fonts.
The second step is copy and paste: Select any of the font styles you think are perfect for your use and copy it on the clipboard (computers and mobile does it automatically)
The third step is to paste it: Just go to the website of the document where you want to use this converted font and paste it there.
Bonus step: Share this site with your friends so that you can chill with them also.
Aesthetic fonts for Instagram, Twitter, Facebook, Tumblr, Discord, and Reddit
As I told you earlier, you can use it anywhere. The only limit is where the limit is put by social media platforms. You can use these fancy aesthetic fonts to make your Instagram Bio attractive and colorful. Twitter, Facebook, Instagram, Amino, Tiktok, and Discord are some of the most useful platforms to interact with like-minded people, and you can easily use this generated stylish text.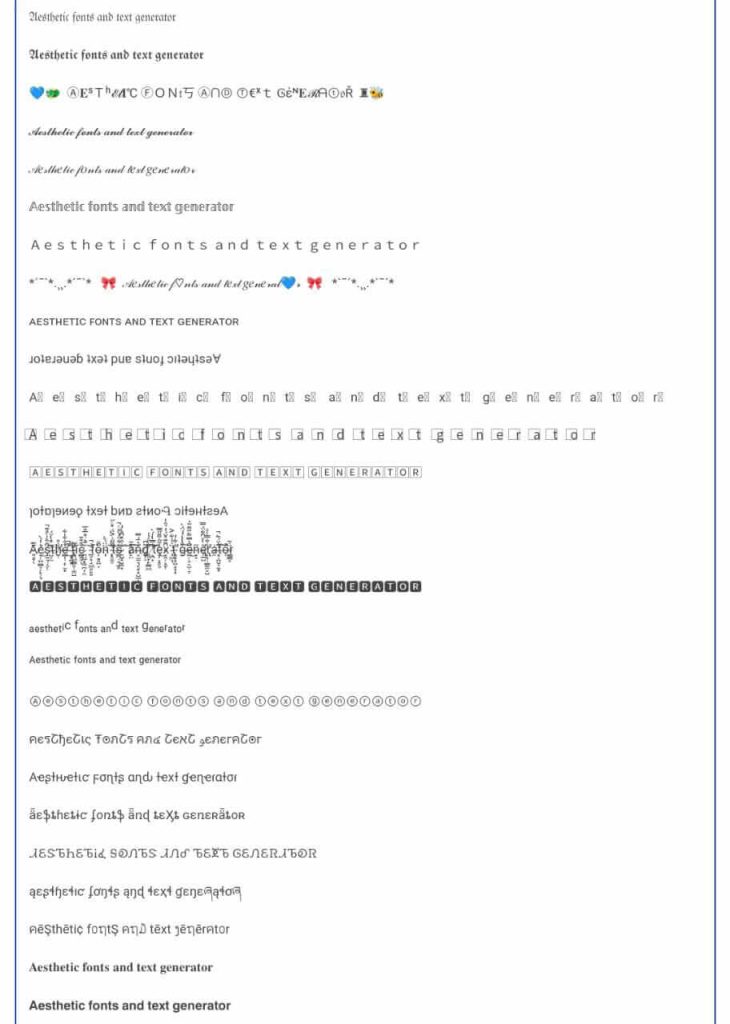 How to make Aesthetic text?
There are different fonts that are considered aesthetic in different situations. Depending on the nature of use, you can get different aesthetic text styles from socialmediadfonts.com.
How to make aesthetic fonts in Photoshop?
Photoshop is fantastic software, but not everyone without proper learning can use it for generating aesthetic text. By keeping this in mind, I developed the aesthetic fonts and text generator on socialmediafonts.com. It just needs copy and paste work.
How to write aesthetic Style?
If you are a content creator or designer, you must have a busy schedule, and your focus should be on quality. It will be time-consuming to gather different aesthetic letters, emojis, and symbols o enhance your work. This site doe sit all for you.
How does an aesthetic font work?
A font generator like these cute aesthetic fonts and texts generator use a Unicode database in the background so that you can get fantastic result in no time without any hassle.
What is the most aesthetic font?
The following are considered the most aesthetic fonts, but it depends on your usage.
Old English Font
Medieval Font
Cursive Font
Double-struck Font
Monospace Font
Wide text Font