Type or Paste Your Text here
Facebook Fonts will Appear here
Facebook Fonts Generator
Facebook is the biggest social media network with millions of users. Whether you are a public figure, or a company Facebook is the right place to impress your audience. You can do this with some attractive images and with Facebook fonts.
Yes, you read it right. There are very limited formatting options available for you while creating a post or comments on other posts. This Facebook font generator can help you to generate 80 plus different fancy and stylish fonts that can be used in Facebook, posts, status, bio, and comments. Try it.
This font generator does not use actual fonts rather it is designed in such a way that it utilizes the uni-codes, in other words, different characters to create fonts.
Instagram Fonts: Click here to change Instagram Bio Fonts.
Social media platforms do not allow to use of different fonts, but they allow to use of different characters. We have taken the benefit from this opportunity and created this amazing font generator for our valuable users.
Facebook Name Styles
I think Facebook Name Styles, also known as cool fonts for your Facebook name, are a fun way to make your Facebook profile name unique and special. Instead of using the regular boring text, these fancy name styles use different kinds of symbols, letters, and creative designs to make your name stand out and look interesting.
By using Facebook Name Styles, you can show off your personality, hobbies, or creativity and make your online presence more about you. But keep in mind that even though you're getting creative, Facebook's rules for names still apply – your name styles should follow the platform's rules and be polite and easy for your friends and others to recognize.
Lots of people like this trend because it lets them be different while still following Facebook's rules.
Get the best Facebook stylish profile name fonts here and you can also use this generator to make bold Facebook Fonts for bio, status and comments.
Free Online Font Changer for Facebook Profiles
Facebook is so deeply integrated into our lives that somehow it reflects our personality. Yes, our Facebook profiles reflect our personality.
Whether you are using it to connect with your family or you are a member of a professional group on Facebook your photos and writing reflect a lot of things about you.
Just like you make an opinion about others by reviewing their profiles, others do the same. If you want to stand out you need to do something different. Using a font generator to create cool, dfancy and stylish fonts is one of the fun things that you can do with your profile.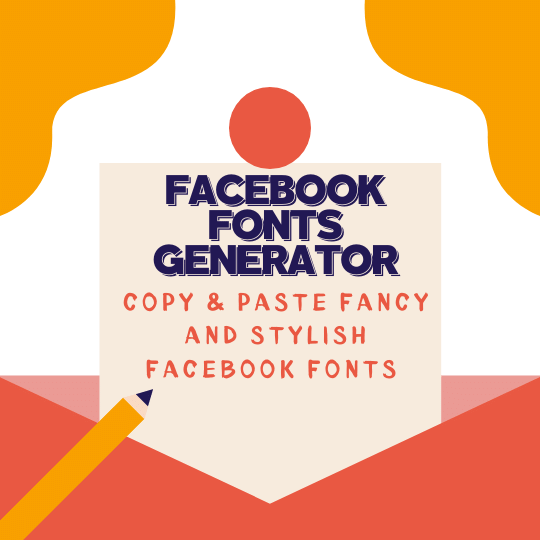 How Copy and Paste Facebook Fonts Generator Works
It is very easy to use this awesome font generator. Follow these three simple steps and make your fb post stand out.
Paste or type the text in the input text box
You will instantly see a drop-down list of converted fancy and stylish text
Copy your favorite style by tapping or selecting the fancy font style
Paste it in the post, status or comment section of Facebook.
Hurrah!
How to change fonts on Facebook post?
It is very simple. Just visit socialmediafonts.com and type or paste your text in the input field. Instantly, you will get 100+ different fancy fonts and styles for your text. Copy your favorite text style and paste it on Facebook.
How to write/type different fonts on Facebook?
socialmediafonts.com is your one-stop solution for all types of different fancy and stylish writing. Just copy and paste your desired text and get amazing fonts online.
Conclusion
Creating fancy and attractive profiles on different social media platforms, especially on Facebook is now easy with this amazing font generator. Go ahead and impress your friends and Facebook profile visitors with beautiful and colorful text. This is indeed the best Facebook stylish profile name maker.